The Connecticut Yankee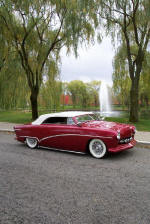 Here is the article that appeared in the magazine:
Some people like customs, some people love customs and some people are down right passionate about customs! Ray Soff of Saddle Brook New Jersey falls into that category.
For Ray, the custom car is much more than just a weekend hobby or the occasional drive to the local cruise night. It's a way of life, a desire to be immersed in all things kustom!
His uncanny ability to track down original custom cars and / or the previous owners has landed Ray not only a true original '50s built custom, but an impressive collection of photographs of many long forgotten sleds and a few colorful stories from their past owners who wondered "how the hell some guy from New Jersey tracked them down, anyhow!" Along with being the state colonel for KKOA for the past 23 years, he is considered by many, "The East Coast Historian" of customized cars. One conversation with him will verify this. Ray can tell you the fate of almost any New England car that was built in the '50s and '60s and usually has the photographs to back it up! Like I said, it's not a hobby for Ray; it's a way of life.
It all began in 1962 at a New York City car show, when Ray, not even old enough to drive, never mind own a car, first set eyes on the custom that he would one day park in his garage. Maybe it was the shiny Dark Green Lacquer, maybe it was the rolled bumpers or the chrome rims, but what ever it was, the lure of this chopped and lowered 1950 Ford Convertible stuck in Ray's mind for many years.
That certain car happened to be owned and built by a man named Jim Karcher from Stamford Connecticut in 1957. Jim had originally painted the car, what would become one of four different color changes, 1954 Buick Tahitian Red. The convertible top, although nonfunctional, was chopped six inches. The car was then lowered a full six inches up front by modifying the A-arms and dropping the spindles and the rear was lowered using two sets of 3 inch blocks. 1955 Packard Clipper taillights were installed into the restyled quarters and '54 Mercury headlight rings were frenched into the front fenders. A 1955 Desoto grill was shortened and fitted into the molded grill cavity which was made from two '50 Mercury grill shells. To top it off, side trim from a 1955 Buick was installed and Jim had the upholstery stitched up in pink and black naugahyde. The car was a well know custom in Connecticut for many years, and even made the cover of Speed & Custom Magazine in 1962 sporting its second paint job, this time in the color of blue and now featuring white rolled and pleated naugahyde interior. The car had the distinct pleasure of being known as "the lowest car in Connecticut" according to one magazine article. At one point in '60 or '61 the car was shipped to Puerto Rico along with others for a car show, and on its return sat locked up in a New York City warehouse because the car show promoter who had promised to pay for shipping both ways, decided to skip town and leave the owners of the cars to fend for themselves!
Jim eventually repainted the car again in a metallic Gold. This time around he removed the bumpers, rolled the pans and added chrome reverse rims.
Shortly thereafter, it was repainted one more time in a dark green lacquer, the color that Ray had seen on it at the New York car show. (Ray is still looking for a color picture of his car in these two colors. If you have one, please contact Kustoms Illustrated!) During the mid-60s when the whole custom "show car" scene was waning, the sled was relegated to everyday use and at one point even took Jim back and forth to Texas. By the late 60s, Karcher figured it was time to sell the tired old custom.
In 1978 Ray decided to track down the car, and within a year's time, had successfully done so. He found the car in Long Island, New York, half restored and half in pieces. It seems that every owner prior to Ray and after Jim, had taken it apart or just never got it back on the road. Luckily the car was for sale, so Ray purchased it and towed it home to New Jersey where it has been in his possession for the past 25 years. In fact, Ray has owned the car longer than any previous owner.
In his spare time he went through the car, replacing the floors, fixing broken brake and fuel lines and replacing the interior that had long been removed and lost. Ray, a body man by trade also went through the body and settled on painting it as close as possible to the original color Red that once graced its smoothed body. Ray chose to update the drive train for drivability installing a 351W with an AT trans, Jag rack & pinion steering and disc brakes. 1957 Cadillac wheel covers now adorn the stock rims with wide whites, and the rolled and pleated interior has been stitched in white naugahyde with red piping. Other typical '50s style attributes include, Lakes pipes, functional spotlights and electric solenoid operated doors and trunk.
In this day in age, when people are finally realizing how important it is to preserve our examples of Hot Rod and Custom history, you can rest assured that this old sled is in good hands!